Qinghua Feng, PhD
Research Assistant Professor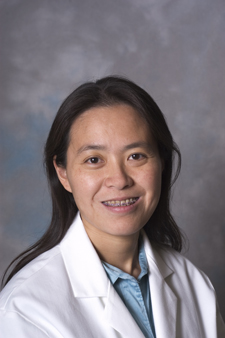 E-MAIL:
qf at uw.edu
MAIL/BOX #:
358050
OFFICE LOCATION:
SLU - Room 233
Clinical/Research Background
The main interest of the lab is to investigate epigenetic mechanism of carcinogenesis. Currently, we are focusing on two projects that are related to stem or progenitor cell biology. The first project involves circulating tumor cells (CTCs) and breast cancer biology. Recent clinical trials have shown that enumeration of CTCs has prognostic value for metastic breast, prostate, and colon cancer. It has been hypothesized that a small fraction of CTCs are tumor stem cells which have the ability to generate distant metastases. However, little is known about the biology of CTCs. We have isolated and cultured CTCs from metastatic breast cancer patients. We are in the process to characterize markers expressed by these in vitro cultured CTCs to determine whether they express breast cancer stem cell markers through quantitative RT-PCR analysis. The second project involves hepatitis C virus (HCV) infection and hepatocellular carcinoma (HCC). It has been shown that HCV infection of hepatocytes can induce tumor stem-cell like signature. We have shown that specific epigenetic changes are associated with HCV infection caused HCC. The polycomb goup of proteins play a central role in stem cell biology. We have found that polycomb histone methyltransferase EZH2 is overexpressed in HCC tissues compared to uninfected normal liver tissues. We are testing the hypothesis that HCV infection of hepatocytes can induce epigenetic changes as well as expression of polycomb complex proteins to generate cancer stem cell like phenotype which is actively involved in hepatocarcinogenesis.
The lab also provides HPV genotyping service for research projects, we are also interested in studying the role of HPV infection in oral cancer.
Academic/Medical Appointments
Research Assistant Professor of Pathology, University of Washington, Seattle, WA, 2010-Present
Assistant Professor of Pathology, University of Washington, Seattle, WA, 2008-2010
Acting Instructor of Pathology, University of Washington, Seattle, WA, 2004-2008
Research Scientist at Harborview Medical Center/University of Washington, Seattle, WA, 2001-2004
Education and Training
Postdoctoral Fellow, Whitehead Institute/MIT, Cambridge, MA, 1997-2000
The Johns Hopkins University, Baltimore, MD, Molecular Biology and Genetics, Ph.D., 1992-1996
Fudan University, Shanghai, P.R. China, Genetics, B.S., 1985-1989
Publication and Grant Information