Charles E. Murry, MD, PhD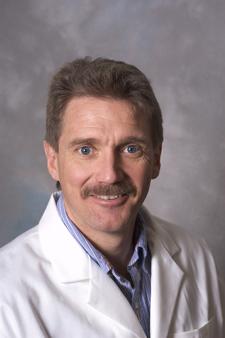 E-MAIL:
murry at uw.edu
MAIL/BOX #:
358050
OFFICE LOCATION:
SLU - Room 453
Clinical/Research Background
Dr. Murry is a cardiovascular pathologist whose clinical interests span ischemic heart disease, cardiac transplantation, atherosclerosis, heart failure, cardiomyopathy, valvular disease and non-atherosclerotic vascular disease.
Dr. Murry's research interests center on stem cell biology and cardiovascular diseases. His laboratory studies pluripotent human stem cells (embryonic stem cells and induced pluripotent stem cells) and also carries out some adult stem cell biology. They use differentiating stem cells as systems to understand molecular regulation of cardiovascular development, and they use tissue engineering approaches to learn the rules for tissue assembly and growth. They use induced pluripotent stem cells to model genetic diseases such as cardiomyopathy in vitro. A large portion of the lab's efforts are directed at harnessing stem cells to promote muscle regeneration of the injured heart.
Board Certifications
Board Certified in Anatomic Pathology
Academic/Medical Appointments
Director, Center for Cardiovascular Biology, University of Washington School of Medicine, Seattle, WA, 2005-Present
Co-Director, Institute for Stem Cell and Regenerative Medicine, University of Washington School of Medicine, Seattle, WA, 2006-Present
Professor, Department of Pathology, University of Washington School of Medicine, Seattle, WA, 2004-Present
Professor, Department of Bioengineering, University of Washington School of Medicine, Seattle, WA, 2004-Present
Professor, Department of Medicine/Cardiology, University of Washington School of Medicine, Seattle, WA 2004-Present
Associate Professor, Department of Pathology, University of Washington School of Medicine, Seattle, WA, 2000-2004
Adjunct Associate Professor, Department of Bioengineering, University of Washington School of Medicine, Seattle, WA, 2000-2004
Education and Training
Postdoctoral Research Fellowship, Department of Pathology, University of Washington School of Medicine, Seattle, WA, 1991-1993
Residency, Department of Pathology, University of Washington Medical Center, Seattle, WA, 1989-1992
Medical Doctorate, Duke University School of Medicine, Durham, NC, 1982-1989
Doctorate of Philosophy, Department of Pathology, Duke University, Durham, NC, 1984-1988
Bachelor of Science, Chemistry, University of North Dakota, Grand Forks, ND, 1979-1982
Publication and Grant Information