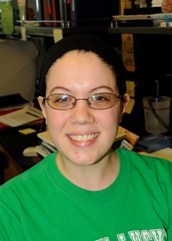 Sharon Paige, Graduate Trainee, MD/PhD
Graduate Education
University of Washington
Undergraduate Education
University of Rochester
Personal Statement:
Sharon Paige was born in San Francisco but spent most of her early life in Rochester, NY. In high school, Sharon became interested in a career in medicine while volunteering in emergency medical services. She attended the University of Rochester and earned degrees in Cell/Developmental Biology and Political Science.

During her undergraduate years, Sharon worked with Dr. M. Kerry O'Banion studying the role of cyclooxygenase-2 in neuroinflammation. She quickly fell in love with the laboratory environment and decided to pursue a career as an MD/PhD despite her prior insistence that she would not follow in her father's footsteps.

Sharon's fascination with both stem cells and heart development led her to the Murry lab where she is nearing the completion of a PhD in Pathology. Her research has focused on the role of Wnt signaling and chromatin dynamics during cardiac differentiation from human embryonic stem cells. Upon completion of her medical training, Sharon plans to pursue a career in pediatric cardiology.