Deprecated
: Function mysql_db_query() is deprecated in
/home/www/html/test/newsite/php/newsall.php
on line
11
Deprecated
: mysql_db_query() [
function.mysql-db-query
]: This function is deprecated; use mysql_query() instead in
/home/www/html/test/newsite/php/newsall.php
on line
11
Dr. Kristin Swanson Receives Radiotherapy Grant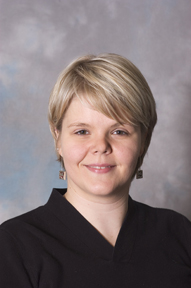 Kristin Swanson, Ph.D., UW Medicine Pathology Research Associate Professor, recently received a (5 year, $1.9 Million NIH) R01 Grant, Novel Tools for Evaluation and Prediction of Radiotherapy Response in Individual Glioma Patients. For more information on the award and Dr. Swanson's research, please read the grant abstract below and
visit Dr. Swanson's lab website.

Gliomas are uniformly fatal primary brain tumors, the diagnosis of which has been greatly impacted by improvements in medical imaging techniques over the last several decades. However, a significant gap remains between the obvious goal of more effective therapy and the present understanding of the dynamics of the tumor's proliferation and invasion in humans in vivo. That gap pivots on the concept that treatment fails because of the diffuse dispersal of glioma cells throughout the neural axis even before diagnosis: the spatial and temporal evolution of which has been shown to be of quantitative and clinical importance as well as predicable with our current modeling methodology.
Acknowledging that essentially all malignant gliomas are treated with radiotherapy, we extend our mathematical model for untreated glioma growth in vivo to include the delivery and response to radiation therapy (RT). Our goal is to test the general hypothesis that our bio-mathematical model can assess and predict the three-dimensional dispersal of glioma cells throughout the brain sufficiently accurately to explain disease recurrence following radiation therapy in vivo in individual patients, in clinical time. Ultimately, the goal is a predictive theragnostic tool that will personalize and optimize radiotherapy.