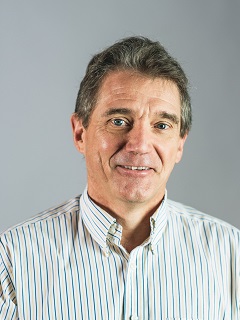 Dr. Charles Murry, Lab Director
Postdoctoral Fellowships
University of Washington, 1991-1996, studied vascular molecular biology under Dr. Stephen Schwartz.
Residency
University of Washington Medical Center, 1989-1992, Anatomic Pathology. Board-Certified in Anatomic Pathology 1992
Graduate Education
Duke University, MD/PhD - 1989/88, studied mechanisms of cell injury during myocardial ischemia and reperfusion under Drs. Keith Reimer and Robert Jennings
Undergraduate Education
University of North Dakota, 1979-1982, BS, Chemistry
Personal Statement:
Dr. Charles (Chuck) Murry is a Professor of Laboratory Medicine & Pathology, Bioengineering and Medicine/Cardiology. He serves as Director of the Institute for Stem Cell and Regenerative Medicine (ISCRM).

Murry is a native of North Dakota and did his undergraduate work in chemistry at Bismarck Junior College and the University of North Dakota. He obtained his MD and PhD degrees from Duke University in 1989 and 1988, respectively. His PhD thesis, done with Drs. Keith Reimer and Bob Jennings, focused on mechanisms of cell injury during myocardial ischemia and reperfusion, and included the first description of the phenomenon of ischemic preconditioning.

In 1989 he moved to Seattle for residency training in Anatomical Pathology at the University of Washington. In 1991 he began subspecialty clinical training in diagnostic cardiovascular pathology, and also began postdoctoral training in the laboratory of Dr. Steve Schwartz, where he worked on the molecular basis for monoclonality in human atherosclerosis. While in the Schwartz lab, Murry became interested in strategies to induce myocardial infarcts to heal by muscle regeneration, which led to his current work in myocardial infarct repair and stem cell biology.